Half—Light
Shahrzad Darafsheh, 2018

Flat rate worldwide shipping is included on all orders.
Shahrzad Darafsheh is a 36 year old artist battling cancer in Tehran. This complex book, in a limited edition of 300, is a window into her life and experience.
This book operates on several levels; as a chronicle of her journey through a sickness, an object made of various materials of different opacities evoking the fragility of skin, obscuring and revealing life's scars. As an experiment in storytelling - when read in Farsi, from right to left, the result is very different from that which an English reader will experience: it is a bilingual project that provides a view into life in a country which many of us have no knowledge of, or visibility into.
In the press:
Fotoroom
Collector Daily
NYC Nighthawk
The Phoblographer
LSD Magazine
Anthea Missy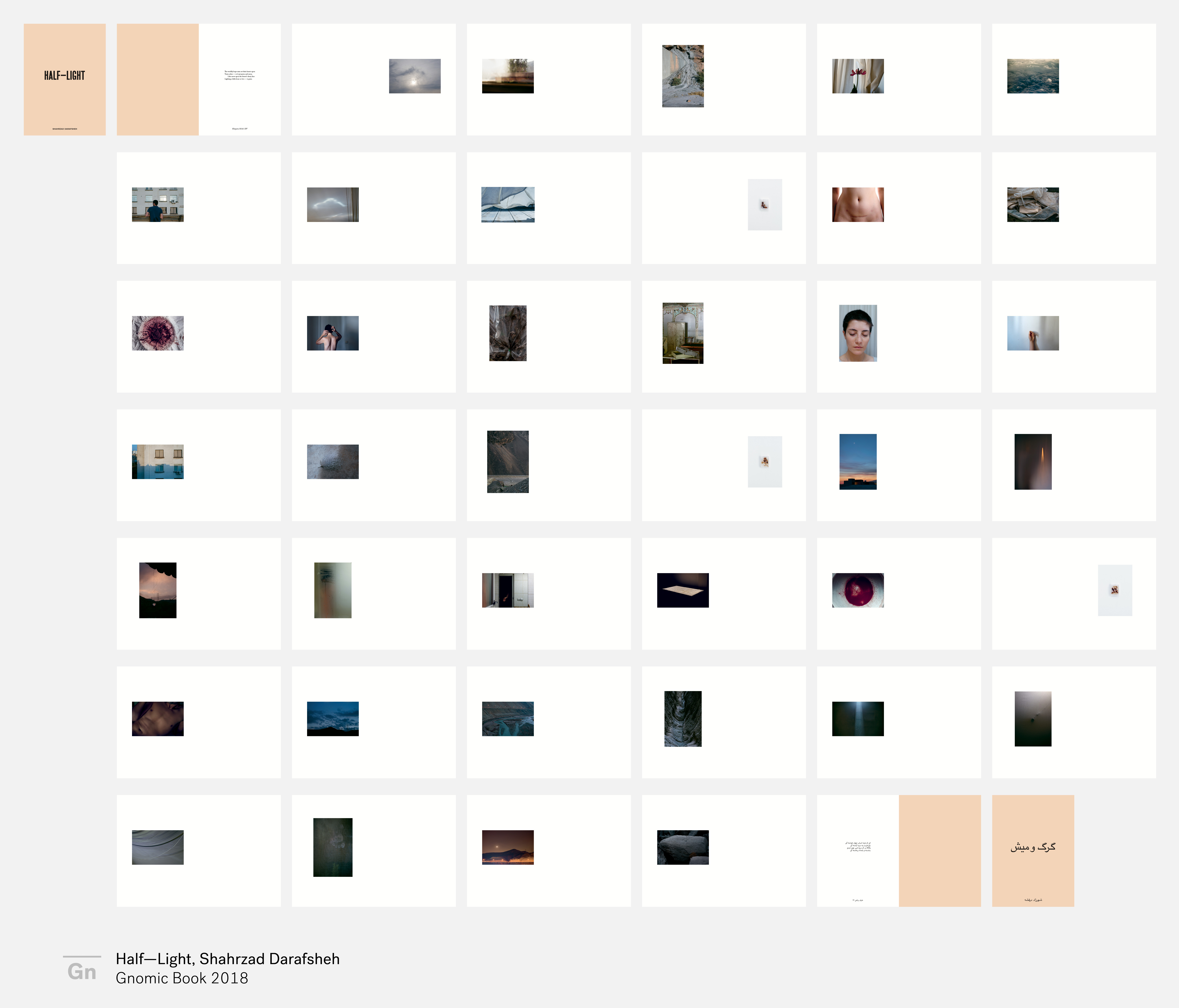 AUTHOR: Shahrzad Darafsheh
TITLE: Half-Light
PUBLICATION YEAR: 2018
ISBN: 978-0-9985180-6-0
80 Pages, 39 images
165x225x11mm, 480 grams
EDITION: 300; First edition, first printing




Shahrzad Darafsheh (b. Tehran, Iran, 1982) received her BA (2007) in Photography from the Art and Architecture Faculty of Azad University of Tehran, and her Diploma (2011) of Film editing and Visual Manipulation from Tehran Institute of Technology (MFT). She has edited several documentary movies, and has taught photography as a professor at MFT (2010 - 2015).

Darafsheh's photographs have been published in Saffron Tales by Yasmin Khan, Bloomsbury Publications, UK (2016). Her video work has also been published in Analyzing While Waiting : Contemporary art in Tehran, Switzerland (2007).

She currently lives and works in Tehran.